At Total Body Care we offer Thread Vein reduction treatment using laser therapy to reduce the appearance of Thread Veins and spider veins on the face or the legs.
Thread Veins are a common problem and can occur in anyone at any age, but are more common as we age. The prominent veins are formed when a vein becomes dilated, making it large and visible through the skin.
People who suffer from Thread Veins often feel self-conscious, and in some cases resort to trying to cover up the affected areas to conceal the more noticeable veins.
Though the good news is that Thread Veins can be effectively treated using Laser therapy, and excellent long term results can be achieved often in conjunction with appropriate post treatment care. At Total Body Care we have helped improve the appearance of Thread Veins for many patients, leaving them feeling more confident and comfortable with their appearance.
The following video clip shows a Practitioner performing thread vein removal therapy on a patientusing the Total Body Care advanced Laser Nd:YAG procedure:
In most cases the improvement in thread and spider vein appearance is immediate:

Prices
Whilst these prices are correct as at the time of publication, prices may occassionaly vary from those quoted here depending on the nature of the treatment taken. After the initial consultation the Doctor or Therapist will confirm the price of your recommended treatment.
Full Price per session
Initial Consultation
NO FEE
Small area (e.g. between eye brows, perineum, fingers or toes, chin, upper or lower lip)

we recommend 1 to 4 sessions

£80
Medium area (e.g. half of upper limb, naval, bikini)

we recommend 1 to 4 sessions

£140
Large area (e.g. lower limb, buttocks)

we recommend 1 to 4 sessions

£210
Extra Large area (e.g. tummy, back, chest)

we recommend 1 to 4 sessions

£295
---
How Does Laser Thread Vein Treatment Work?
At Total Body Care we use a state of the art advanced skin laser system, and in using the most advanced and up to date technology, we are able to deliver excellent results to our patients.
Through using the laser, energy is emitted that targets the blood found in the vein. It is this blood within the vessels that result in the more noticeable appearance of the Thread Vein. The mild heat energy from the laser targets the vein and is absorbed by the blood, heating up the walls of the veins and causing them to collapse, without causing damage to the surrounding tissues.
The remaining vein is then reabsorbed by the white blood cells, resulting in a clear appearance at the skin surface, and thus removing the previously prominent Thread Vein.
In comparison with other laser systems operating at different wavelengths, which mainly affect the surface layers of a lesion, the Total Body Care system's Nd:YAGlaser light also targets the underlying vascular feeding system, which is important for ensuring the long-term efficacy the treatment. This process is perfectly safe as other healthy veins supply blood to the treated area and the body's immune system clears away the dead tissue just as with a bruise.
The Total Body Care Long-pulse Nd:YAG laser offers the perfect solution for treating vascular lesions. The long-pulse Nd:YAG lasers penetrate to a depth of 5-6 mm into the skin, allowing for highly effective treatments. Independent research shows that over 75% of patients with deep hemangiomas that are treated with Nd:YAG lasers see a dramatic regression in thread veins and other vascular lesion.
Laser skin rejuvenation is a highly effective treatment with little or no side effects, and a patch test can confirm that the treatment is appropriate for a particular individual. A very small number of people may sometimes feel some mild discomfort during the procedure.
The Results
Through laser treatment, Thread Veins are able to be completely removed, but more than one session may be required. With very little downtime, there is no recovery time needed after treatment and so you can carry out the rest of the day like normal.
Examples of Thread Vein treatment results using the Total Body Care laser systems: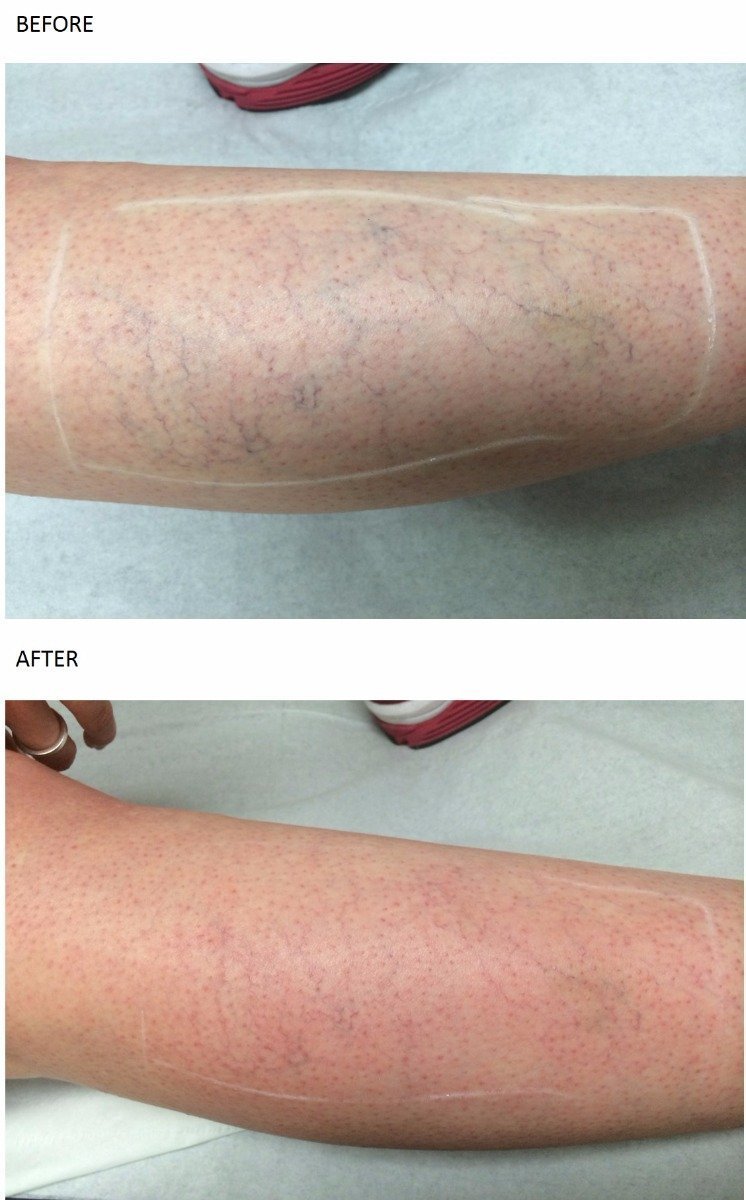 Our Recommendations
After Treatment
After Thread Vein removal treatment you may find the area is a little red for several hours. In the 24 hours following the laser treatment you must only wash the treated area with warm water, and no soap. We advise you to apply Which Hazel Gel for the next 48 hours, followed by an after care cream (this can be recommended by the Total Body Care team).
From day three we advise you then apply an Aloe Vera lotion to the treated area daily, for the following month, which will promote healing. You should not pick at the area treated, letting it heal naturally, and avoid sunbeds, saunas and steam rooms for around three days following your treatment.
Recommended Products following Thread Vein Treatment
If you were interested in thread vein treatment, or you simply want to find out more, please do get in touch as we encourage all enquires and hope to help you further. Call us or send us an email today, or book in for a consultation.
Scientific & Clinical Research:
Combined Fractional and Bulk Heating Modality for Nd:YAG Laser Skin Treatments-
Taylor M, Lukac M, Gorjan M, Nemes K
Journal of the Laser and Health Academy, Vol. 2012. No. 1. P.26-34.
Use of Long Pulse Nd:YAG 1064 nm Laser for Treatment of Rosacea Telangiectatica
Kozarev, J. Journal of the Laser and Health Academy, Vol. 2011. No. 1.-
Treatment of large vascular lesions in the orofacial region with the Nd:YAG laser.
Vesnaver A., Dovsak D. Journal of Cranio-Maxillofacial Surgery. 2009 Jun;37(4):191-195.-
Treatment of Vascular Lesions of the Tongue with Nd:YAG Laser.
Coelho J, Serrao V. Case Reports in Medicine, Vol. 2009.-
Treatment of vascular lesions in the head and neck using Nd:YAG laser.
Vesnaver A, Dovsak D. Journal of Cranio-Maxillofacial Surgery. 2006 Jan;34(1):17-24.-
Variable-pulse Nd:YAG laser in the treatment of facial telangiectasias.
Bevin AA, Parlette EC, Domankevitz Y, Ross EV. Dermatol Surg. 2006 Jan;32(1):7-12.-