Skin Tightening, using HIFU by Levura
 
Total Body Care offers advanced Skin Tightening treatment for the face and body using High Intensity Focused Ultrasound.
---
Introduction
As aesthetic medicine has advanced, ultrasound has proven to be an excellent tool for several medical procedures.
Modern advancements in ultrasound technologies are now available for non-surgical cosmetic treatments.
Total Body Care uses the renowned Levura HIFU aesthetic device to help achieve outstanding results from face and body treatments. 
---
Treatment Testimonials
I've had 2 sessions now and I'm very happy with the outcome! I can really see a difference around my waist, the skin feels really toned. The Dr and the team have been great and I'm so happy. Definitely recommended!
 
Fiona G, Clapham SW1


TREATWELL VERIFIED REVIEW
While i think the treatment has helped, its still a little too early to say how much.  My skin feels tighter and looks better, just want to see how long the effects last.  I found the experience at the clinic to be good - professional, informative and helpful.  They weren't pushy and answered all my questions and helped me decide whether to proceed with the treatment sessions.   I did look around and the offer on at the moment is good value here. 
 
J Warren, Surrey

TREATWELL VERIFIED REVIEW
---
---
HIFU treatments by Levura and Total Body Care - DESIGNED BY AESTHETIC DOCTORS
---
What is HIFU?
HIFU (High Intensity Focused Ultrasound) is a non-invasive treatment that targets skin tightening and fat reduction through application of energy to the skin and underlying tissue. 
HIFU treatment offers an effective way to address the reduction of collagen in the skin: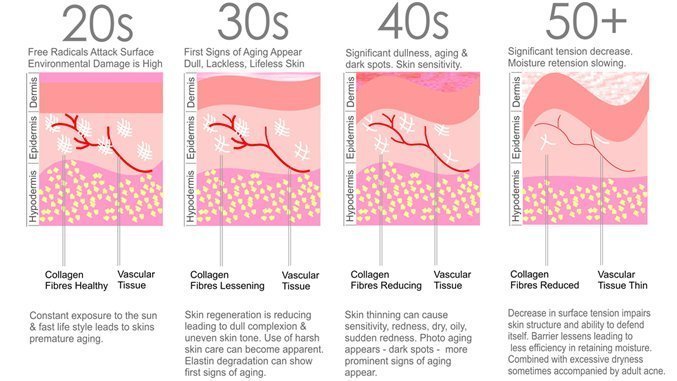 HIFU for Skin Tightening:
HIFU (High Intensity Focused Ultrasound) is non-invasive skin tightening and lifting system of the dermis, subcutaneous layer, and superficial aponeurotic system (SMAS).
HIFU lifts and tightens the skin by utilising high intensity focused ultrasound energy beneath the skin causing thermal injury.
The energy generated penetrates below the skin surface and causes cellular friction within cells.
The deposition of ultrasound energy results in immediate contraction and stimulation of new collagen and elastin as part of the healing process. 
HIFU for Fat Reduction:
HIFU (High Intensity Focused Ultrasound) is a non-invasive fat reduction system that targets adipose tissue by utilising high-intensity ultrasound energy causing thermal coagulation to fat cells.
The energy penetrates through the skin and destroys the adipose tissue releasing triglycerides.  The destroyed cells sends out chemotactic signals and draw macrophages to the treated area.
The Macrophages engulfe and clean away adipose cells following body's normal metabolism process.
The controlled thermal effect results in a change to the physiology of the skin, resulting in immediate contraction and stimulation of new collagen and elastin as part of healing process.
Why choose Levura over other HIFY skin tightening options?
The Levura™ approach to aesthetic device innovation and development involves gathering valuable input from practicing doctors, aestheticians, and cosmetic surgeons. By doing so, they've engineered HIFU technologies that:
- Improve treatment results
- Minimise treatment discomfort
- Increases the speed of HIFU procedures
- Further encourage the body to grow collagen naturally
How it works
Levura™ aesthetic devices have the following mechanisms of action:
Tightening of the Skin through the contraction of collagen 
Activates the body's natural ability to grow new collagen
The lipolysis (rupturing) of fat cells using focused ultrasound pulses
The HIFU technologies we use target the four layers of skin that affect physical appearance; specifically, the epidermis, dermis, subcutaneous fat, and superficial muscular aponeurotic system (SMAS).
Each cartridge is designed to converge ultrasound at a specific skin layer depth. During skin and neck treatment sessions, the patient's skin becomes more firm and youthful as new collagen grows.
If the patient opts for a body contouring treatment, fat cells are eliminated via lipolysis. Optimal cosmetic results are attainable with only one treatment session, the case study photos below provide an example of the results from HIFU treatment. Results will vary between individuals. 
Treatment Areas
We can treat the Face, Neck and Body using our advanced Levura HIFU device (The HIFU Pro-Duo).
Face Treatments:
Forehead: heavy lines, eyebrow lifting
Eyes: bags under eye, crow's feet,
Cheeks: nasolabial fold (laugh lines), depressions
Chin: double chin
Neck Treatments

Aging marks
Loose skin
Jowl line
V-line forming
Neck Wrinkles

Body Treatments

Bra bulge
Upper arms
Back
Abdomen
Flank (love handles)
Hip
Thighs
HIFU Pro-DUO is able to achieve results by creating non-invasive ablation and heating to specific layers of the skin.  Often a single treatment can result in rapid results that will continue to improve as your body produces new collagen and elastin.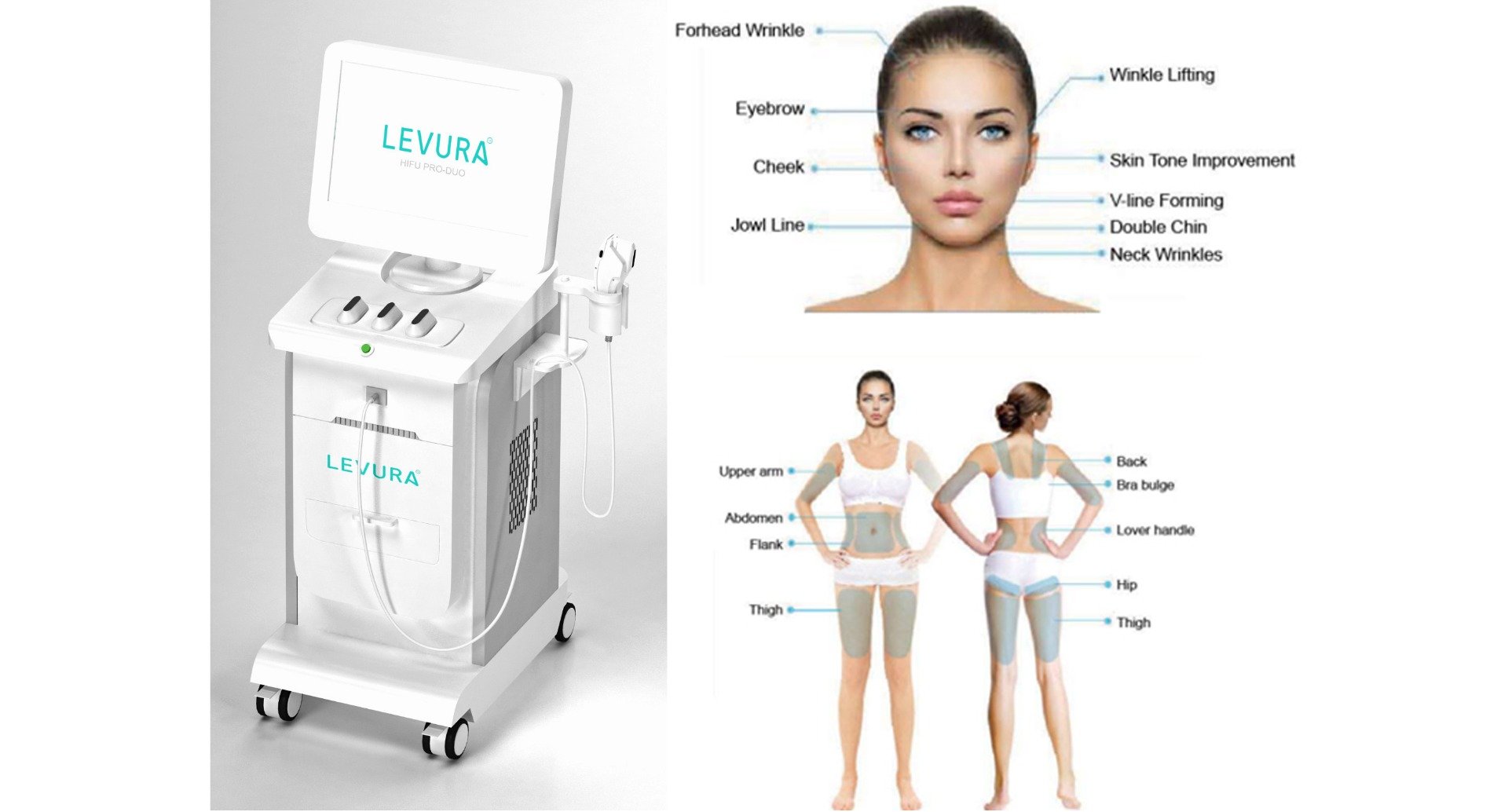 Points to consider for before your Treatment and for After Care
Please feel free to discuss any of the points below during your initial consulation. 
Do not consume alcohol 24 hours before and after the treatment
Do not have Laser or IPL treatments 1 month before and after the treatment

Do not exercise for 5-7 days after the treatment

Avoid hot baths for 5-7 days after the treatment
Do not massage the area for 5-7 days after the treatment
Do not use sunbeds or sunbathe during the healing process (up to 8 weeks)
Moisturiser must be used if the skin gets dry
Apply SPF 50 daily if the treatment area is exposed
A follow up appointment is recommended 8 weeks after the treatment and 12 weeks after the treatment
Prices
Prices for Levura HIFU Treatment will vary according to the size of the area being treated and the complexity of the treatment.
We can quote the price for treatment after an initial free consultation with you. 
As a guide, prices for treatments to the face and also to the body range between £900 and £1400.  
We are currently offering a Special Launch Price, with Face and Body treatments priced at £450 for a single session treatment to the Face or Body.
---
If you are interested in receiving a consultation from our Aesthetic Therapists for HIFU treatments, please contact us and we'll get in touch.
---