Other Health and Wellbeing Treatments
Total Body Care offers a number of effective health and beauty treatments to address several common issues and ailments that affect our bodies. Our Clinic provides reflexology alongside a number of other specialist treatments to reduce excessive perspiration, alleviate or reduce snoring, remove skin tags, whiten teeth and treat joint problems.
We also provide private GP services and can perform a number of checks and tests to assess body health. Our clinical practitioners and therapists can tailor an assessment and treatment plan based on your body and the results you are looking for.
Our key services include:

Please click on any of the above to read more about each therapy area.
---
Reflexology
A massage technique used on the feet which creates relaxation, alleviates pain, improves blood flow, benefits mental health, eases pregnancy, enhances medical care and aids post-operative recovery.
In the feet, there are reflex areas corresponding to all the parts of the body and these areas are arranged in such a way as to form a map of the body in the feet with the right foot corresponding to the right side of the body and the left foot corresponding to the left side of the body. By having the whole body represented in the feet, the method offers a means of treating the whole body and of treating the body as a whole. This latter point is an important factor of a natural therapy and allows not only symptoms to be treated but also the causes of symptoms.

Prices
| | |
| --- | --- |
| | Full Price |
| 1 session | £45 |
| 6 sessions (a session every 1 to 2 weeks) | £225 |
---
Under Arm perspiration treatment
Excess sweating, known as Hyperhidrosis can be a troublesome problem for the sufferer, causing embarrassment and avoidance of particular occasions, environments and activities.
At Total Body Care we offer treatment of Hyperhidrosis to the under arms, which is the area most commonly affected and the area that causes the sufferer to feel the most self-conscious.
There are various factors that can cause Hyperhidrosis, including your genes, weight, anxiety, low blood sugar, an over active thyroid gland and problems with the sympathetic nervous system.
Hyperhidrosis can be treated with the use of Botulinum Toxin injections, working to reduce the amount you sweat, leaving you feeling confident and able to join in with events and activities you may have felt unable to join in with before.

Prices
| | | |
| --- | --- | --- |
| | Recommended number of sessions | Full Price per session |
| Consultation | 1 | No Fee |
| One Armpit | As prescribed | £350 |
| Both Armpits | As prescribed | £599 |
How Does Under Arm Perspiration Treatment Work?
At Total Body Care we are able to treat Hyperhidrosis in the under arms. Our trained, qualified and experienced practitioners will assess the problem, and administer Botulinum toxin injections into the skin under the arms. This works to reduce sweating by blocking signals from the brain to the sweat glands, with around 15-20 injections being needed per side.

The Results
Through the use of Botulinum injections we are able to dramatically reduce the amount of sweating experienced in the underarms, leaving you feeling more confident and able to enjoy life to the full.

Our Recommendations
After the Treatment
You will find that with Hyperhidrosis treatment the results aren't instant, with most patients seeing results 4-5 days post treatment. The effects typically last 4-6 months, and when sweating begins to increase again you can seek repeat treatment to continue seeing great results.
---
Snoring Therapy
Our laser based snoring therapy is a non-invasive, patient-friendly laser treatment for increasing the quality of a patient's sleep. The laser therapy for the soft and hard palate reduces the effects of sleep apnoea and decreases the amplitude of snoring by means of a gentle, laser-induced tightening effect caused by the contraction of collagen in the oral mucosa tissue.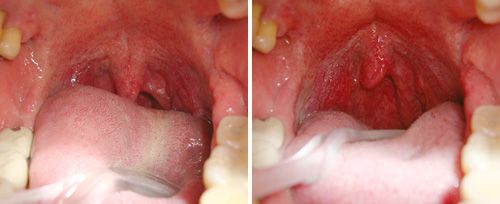 Prices
| | | |
| --- | --- | --- |
| | Recommended number of sessions | Full Price per session |
| Consultation | 1 | No Fee |
| Laser Snoring Therapy | As prescribed, typically 3 to 4 sessions | £400 for 4 sessions |
Simple, Safe and Effective
The patented Er:YAG laser modality optimizes the length of laser pulses, allowing for the safe penetration of heat into the oral mucosa tissue. It is gentle enough to be used on the sensitive tissue inside the mouth, but strong enough to provide clinically efficacious heating.

A Patient Friendly Solution
A full course of the Total Body Care Snoring Treatment consists of three to four separate treatment sessions over a six to eight week period. The final results of the treatment have been shown to last up to a year, and the therapy can be repeated.
Treatment should typically result in an audible reduction in snoring – however the extent of the reduction can vary for each patient. At the initial consultation our Physician can discuss further with you the likely outcome.
Please note that spicy/ tangy foods should be avoided for 24 hours after each treatment.
Patients find the laser Snoring treatment to be a highly comfortable and satisfying solution that requires no device to be worn during sleep and involves no chemical treatment. It's a gentle and easy way for patients to regain a good night's rest.
---
Skin Tag removal
Skin tags (acrochordons) are small flesh-coloured or brown growths that hang off the skin and look a bit like warts. They're very common and harmless.
Skin tags can vary in size from a few millimetres up to 5cm wide.
We can remove most skin tags using our advanced laser system – this is a relatively straightforward process. In some circumstances our Physician may recommend surgical removal and the dermatological lesions can be sent for histology should there be any signs of bleeding or infection or if there is any pain associated with the lesion.

Prices
| | | |
| --- | --- | --- |
| | Recommended number of sessions | Full Price per session |
| Initial Consultation | 1 | No Fee |
| Laser removal | As prescribed | £90 |
| Surgical removal | As prescribed | £150 |
---
Teeth Whitening
The very best in laser teeth whitening. This revolutionary treatment from California, USA takes over the older generation of teeth whitening systems. Whitening is a process where the tooth discolouration is "whitened" to a lighter shade. It removes the staining agent through chemical means using laser.
It is a safe procedure when carried out under professional supervision. Teeth darken over time with smoking, ageing and coloured foodstuffs such as tea, coffee, curry and red wine. Pigments and staining agents penetrate the tooth's enamel surface causing discolouration of the teeth and internal staining.
Whitening is a process in which a bleaching agent namely hydrogen peroxide or carbamaperoxide is applied to the surface of the teeth.These agents when activated with the help of laser light release nascent oxygen. This oxygen then penetrates through the surface of enamel. Oxygen breaks down the stain molecules causing them to disappear without damaging the tooth structure. The professional teeth whitening treatment provided in the Total Body Care is an easy, fast and non-invasive cosmetic treatment producing immediate results.
During the consultation our Dentist and Specialists can provide you with further information about the treatment, including any follow-up recommendations.

Prices
We provide a number of treatments and offers – please Contact us to request further information or book an appointment and a member of the team will get back in touch with you to provide further details and pricing information.
---
Skin Cancer Check
At Total Body Care we provide a Skin Cancer check service that surveys suspected lesions with a dermatoscope. A dermatoscope is a handheld device that uses polarised light to magnify an area up to ten times. The features of a brown spot become more prominent and the pattern of pigment can be seen clearly (the lesions may look grey, blue, red, or black under the dermatoscope). Most importantly, dermoscopy helps evaluate the depth of pigment.
During the consultation our Aesthetic Doctor can provide you with further information, including any follow-up recommendations.

Prices
| | | |
| --- | --- | --- |
| | Recommended number of sessions | Full Price per session |
| Lesion Analysis | 1 | £40 |
| Lesion surveillance and referral | As prescribed | £75 |
---
Joint Therapy
Our clinics provide treatments to treat a range of joint problems. Our treatments can increase mobility and reduce associated pain. The can advise on and treat a number of joint conditions such as osteoarthritis, trochanteric bursitis (a common cause of pain in the hip) and carpal tunnel (tingling sensation, numbness and sometimes pain in the hand and fingers). For further information please contacts us and we can arrange a consultation with one of our Physicians, who can advise you further.

Prices
Number of sessionsCurrent Offer Price
| | | |
| --- | --- | --- |
| | Recommended number of sessions | Full Price per session |
| Initial Consultation | 1 | £75 |
| Consultation and referral | 1 | £100 |
---
Private GP Services
Private General Practitioner (GP) medical services are available from our Total Body Care Clinics. The consultation with our GP is intended to address acute and minor conditions – enabling you to access medical advice easily and when you require it. Our GPs can also provide second opinions and can provide referrals for further medical advice / treatment.
The Total Body Care GP shall not be able to assist for more chronic and complex conditions as we recommend this requires the patient to be seen by their regular supervising Physician or GP.
During the consultation our GP can provide you with further information, including any follow-up recommendations or referrals.

Prices
Number of sessionsCurrent Offer Price
| | | |
| --- | --- | --- |
| | Recommended number of sessions | Full Price per session |
| Consultation | 1 | £75 |
| Consultation and referral | 1 | £100 |
---
If you are interested in any of the services we provide at Total Body Care, or you simply want to find out more, please do get in touch as we encourage all enquires and hope to help you further. Call us or send us an email today, or book in for a consultation.