Acne and Acne Scar treatment
At Total Body Care we offer laser and other forms of acne treatment, to effectively improve and treat the appearance of acne. We are well aware of how difficult it can be to live with skin you're just not happy with, and have vast experience treating those who suffer from acne, improving their skin and enabling them to feel more confident and comfortable with their looks. Acne can occur at any age, and happens when natural oil-secreting glands in the skin become clogged, inflamed and infected by bacteria.
Acne is more common in teenagers, affecting up to 90%, but can occur at any stage in life, in both men and women, with the most common areas to be effected including the face, shoulders, back and chest. Using laser treatment and combination therapy, at Total Body Care we can effectively treat acne and reduce any acne related scarring to improve the appearance and condition of the skin.
Our clinics offer two types of treatment:
---
Laser Treatment for Acne and Acne Scarring
In the following video clip a Practitioner is performing acne treatment on a patient using the Total Body Care advanced Laser Nd:YAG procedure:
Prices
Whilst these prices are correct as at the time of publication, prices may occassionaly vary from those quoted here depending on the nature of the treatment taken. After the initial consultation the Doctor or Therapist will confirm the price of your recommended treatment.
| | |
| --- | --- |
| | Full Price per session |
| Initial Consultation | NO FEE |
| Small area (e.g. between eye brows, perineum, fingers or toes, chin, upper or lower lip)we recommend 4 to 9 sessions | £80 |
| Medium area (e.g. half of upper limb, naval, bikini)we recommend 4 to 9 sessions | £140 |
| Large area (e.g. lower limb, buttocks)we recommend 4 to 9 sessions | £210 |
| Extra Large area (e.g. tummy, back, chest)we recommend 4 to 9 sessions | £295 |
How Does Acne Laser Treatment Work?
As the glands (or pores) in the skin become blocked they start to be colonised by anaerobic bacteria, which only thrives in an oxygen free environment. By using laser treatment it is possible to destroy this oxygen free environment and therefore kill the bacteria that is causing the acne. The laser light is well absorbed by the acne spots and the bacteria and is able to destroy the environment in which the bacteria is able to live, eradicating the bacteria. In addition the precisely controlled Nd:YAG laser light safely penetrates into skin to effectively target overactive sebaceous glands and to reduce the risk of developing new acne inflammation.
Alongside this, the laser also reduces the release of histamines, which add to the red and inflamed look of acne, working to improve the overall appearance of the complexion. The treatment involves a laser light being directed at the area of the skin that is affected by acne.
During treatment the skin will feel warm, but the treatment is not painful. Our Practitioner shall move the laser across the affected area, a little like a brush stroke, in order to kill the bacteria that causes the acne.
For improving the appearance of acne scars, the dual action capability of our laser treatment provides a supporting effect based on a precise and gentle skin resurfacing procedure in which an Er:YAG laser beam is absorbed by the top micro-layers of the skin to vaporize scarred tissue and stimulate the production of new collagen in the dermis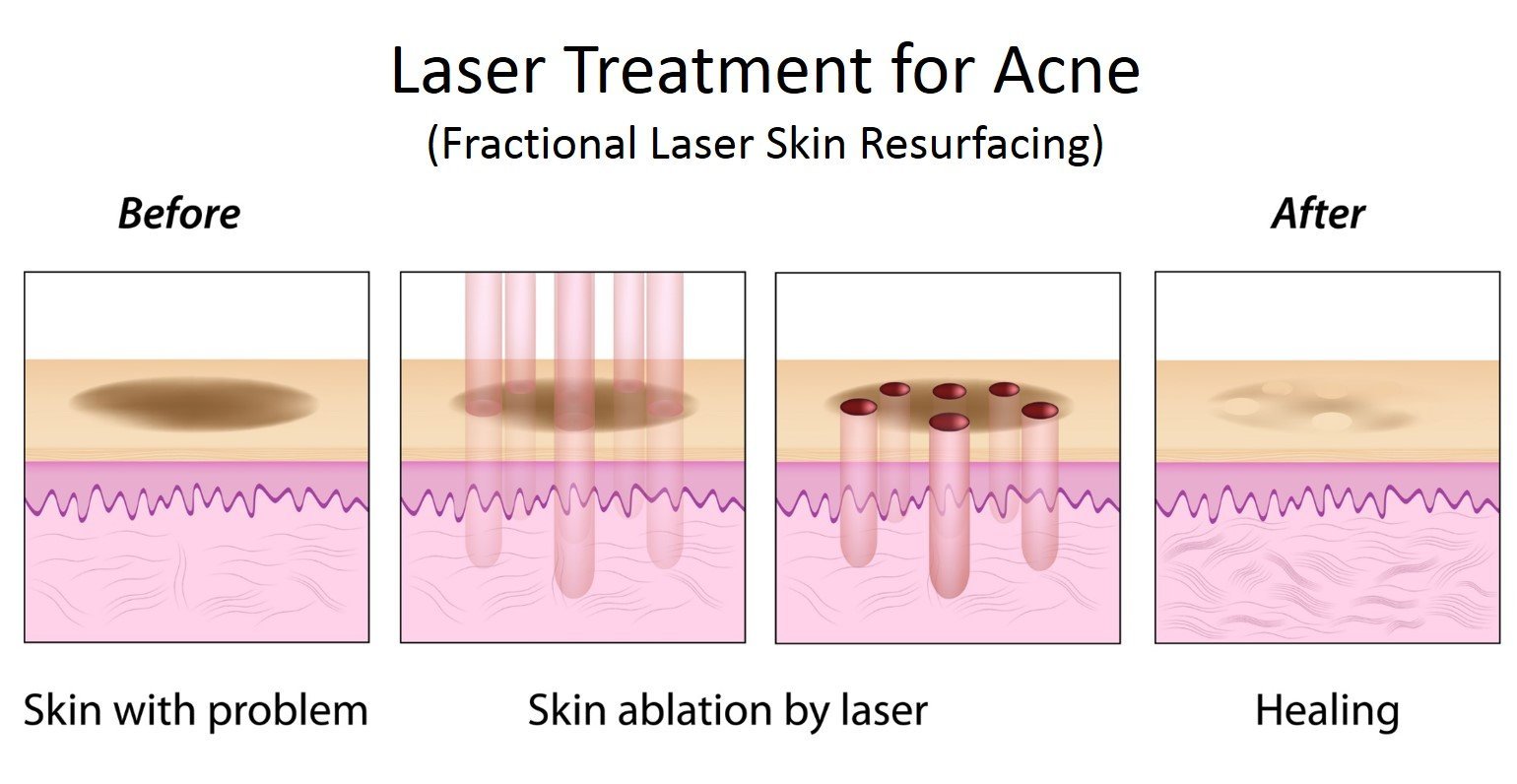 The Results
For active acne, our laser treatment reduces acne inflammation through photoselective absorption and controlled heating effects. As mentioned before, the high powered Nd:YAG laser safely penetrates the skin to an optimal treatment depth to thermally and selectively destroy overactive sebaceous glands. In addition to its thermal penetration effects, the Nd:YAG acne laser treatment also accelerates the healing process and stimulates collagen remodelling, an important step in the long-term treatment of acne.
For treating problematic acne scars, the element of our laser that produces the Er:YAG laser wavelength is ideal for gentle ablative scar revision. The Er:YAG laser safely and effectively provides the minimal penetration depth required for light resurfacing of acne-scarred skin, helping to improve skin texture and tone. Unlike chemical peels and dermabrasion, laser skin resurfacing allows the penetration depth to be precisely controlled. The laser gently vaporizes micron-thin layers of the acne-scarred surface to reveal healthy, undamaged skin below. Laser resurfacing is a fast, safe and simple procedure.
After treatment the appearance of acne is reduced, and the skin should continue to improve due to the bacteria being destroyed. Over time and having benefitted from the acne therapy, the skin should return to a normal appearance. The examples below demonstrate the effectiveness of acne treatment using the laser system operated by Total Body Care. The treatments result in significant improvements to acne related scarring and active acne skin, resulting in clearer skin with a noticeable reduction in scarring and improved overall skin condition:  

Our Recommendations
After the Treatment An excellent skin care routine is essential after laser treatment for acne. Keeping the skin clean and hydrated is key to the improvement of the skin and at Total Body Care we can advise on the ideal skin care regime for your skin. You should not pick or squeeze remaining acne to avoid scarring, and over time the acne will improve in appearance. We recommend weekly treatments, with each individual needing around 4 or more treatments, depending on the severity of the condition.
Recommended Products Following Acne Treatment
SkinCeuticals Phyto Corrective
SkinCeuticals Blemish & Age Cleanser
SkinCeuticals Blemish & Age Solution
SkinCeuticals Clarifying Clay Mask
SkinCeuticals SPF SkinCeuticals Retinol 0.3 / 0.5 / 1.0 UK
CaudalieVinosource Moisturiser
CaudalieVinoperfect Radiance Serum
Caudalie Purifying Mask
Nuxe Huile Prodigiuse
Nuxe Rose Petals Clarifying Mask
Ren Clear Calm 3 Clarifying Clay Cleanser
If you are interested in acne treatment, or you simply want to find out more, please do get in touch as we encourage all enquires and hope to help you further. Call us or send us an email today, or book in for a consultation.
Scientific & Clinical Research:
Comparison of Fractional Er:YAG and Carbon Dioxide Lasers in Resurfacing of Atrophic Scars in Asians. Manuskiatti W. Journal of the Laser and Health Academy, Vol. 2011. No. 1. - Read Full Text. Combined Use of Nd:YAG and Er:YAG in Acute Cystic Acne Treatments - A Case Study. Kakas P. Journal of the Laser and Health Academy, Vol. 2010. No. 1. P. S02. - Download PDF | 624 kB Treatment of punched-out atrophic and rolling acne scars in skin phototypes III, IV, and V with variable square pulse erbium:yttrium-aluminum-garnet laser resurfacing. Wanitphakdeedecha R, Manuskiatti W, Siriphukpong S, Chen TM. 2009. Read Abstract Retrospective analysis of non-ablative scar treatment in dark skin types using the sub-millisecond Nd:YAG 1,064 nm Laser. - Badawi A, Tome MA, Atteya A, Sami N, Morsy IA. 2011. Read Abstract Treatment of atrophic facial acne scars with the 1064-nm Q-switched Nd:YAG laser: six-month follow-up study. - Friedman PM, Jih MH, Skover GR, Payonk GS, Kimyai-Asadi A, Geronemus RG. Arch Dermatol. 2004. Nov;140(11):1337-41. Read Abstract
---
Environ Treatments for Acne and Scarring

Environ Active Vitamin Treatment
Active Vitamin Treatment (3 areas)     1 hour    Price: £65
Advanced Active Vitamin Treatment (10 areas)     1.5 hours     Price: £85
Packed with nourishing, anti-ageing ingredients, the Active Vitamin Treatment will leave your skin looking radiant and dewy. The freshest, most active forms of Vitamin A, C and Anti-Oxidants are driven deep into the lower layers of the skin using sound waves and small electrical pulses. This scientific approach stimulates Collagen to soften lines and improve elasticity, increase hydration and boost radiance.  The Active Vitamin Treatment is suitable for all skin types and is particularly effective at addressing sun-damage, pigmentation, premature ageing, dryness, uneven skin tone and scarring with measurable differences after just one session.
Purifying Treatment     
30 minutes      Price: £45
Created to purify micro-exfoliate and re-hydrate your skin, this particular treatment assists with the treatment of acne, scarring and deep skin congestion.  The combination of scientifically advanced products and techniques revives and refreshes your skin, leaving your skin feeling like new.
Cool Peel Treatment     
1 hour      Price: £65
This revolutionary approach to peeling achieves incredible results without damaging the skin.  Low strength Lactic Acid is used to reduce the skin's PH and trigger the release of growth factors, which creates tighter, smoother skin.  It destroys bacteria, boosts hydration and removes the build-up of dead skin cells, helping to decongest the surface and smooth its texture.  The Cool Peel is ideal for clients with lines and wrinkles, rough or problem skin, sun damage and Rosacea.  
---