Nail Fungus Treatment – With Laser
At Total Body Care, our London Clinics treat Nail Fungus (also known as Onychomycosis) using an advanced laser based approach. The ClearSteps™ Onychomycosis Treatment is a revolutionary, patient-friendly method for treating onychomycosis (toenail fungus). Laser Nail Fungus treatment is a simple and effective procedure that uses the power of Nd:YAG laser light to heat evenly throughout the depth of the effected nail and skin tissue, effectively weakening and killing parasitic fungi which have infected the patient's nails.
Prior to the adoption of laser technology for treatment, nail fungus was exceptionally difficult to remove, causing the sufferer to feel self-conscious and in some cases feel the need to hide their feet away. Using laser treatment we can now deliver excellent results, removing the infection in a short and simple procedure and delivering effective results.
Total Body Care practitioners are certified, trained and experienced in treating nail fungus, warts and verrucas, and all treatment methods and practitioner training is approved and overseen by our experienced Aesthetic Doctors and Medical Director.
The following video clip shows a Practitioner using the Total Body Care Nd:YAG laser to treat toenail fungus on a patient:
Noticeable improvements in the appearance of the affected nails is typically seen after a few sessions, depending on the severity of the condition: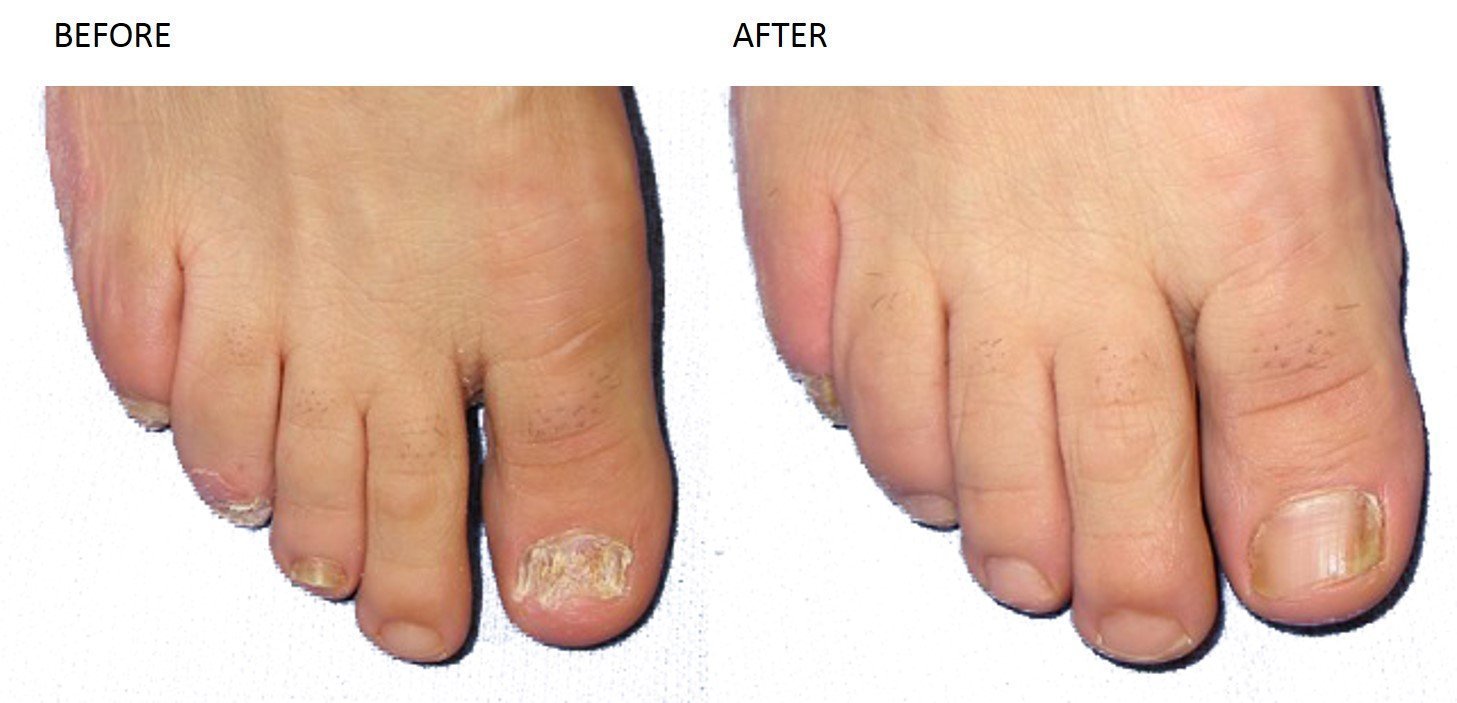 Prices
All treatment packages include 4 laser sessions. Additional laser treatment sessions may be required.
| | | |
| --- | --- | --- |
| | Full Price for 4 sessions | Discounted price (10%) |
| Initial Consultation | £50 deductible from treatment price | £50 deductible from treatment price |
| Both Feet | £595 | £535.50 |
| One Foot | £375 | £337.50 |
| Both Hands | £595 | £535.50 |
| One Hand | £375 | £337.50 |
| Both Feet and One Hand | £845 | £760.50 |
| Both Hands and One Foot | £845 | £760.50 |
| Both Hands and Feet | £995 | £895.50 |
| One Foot and One Hand | £595 | £535.50 |
---
Treatment Testimonials
I've had 5 sessions now and my nails are definitely clearing up. I've had this problem for almost 10 years and it just wouldn't go! Nothing I tried before would work and it got worse after visiting another clinic. Thankfully I was recommended laser treatment at Total Body Care and I'm really very happy with the improvement – the Dr says I only need 1 more treatment to eliminate the fungus.

Marcus A, Clapham SW1


TREATWELL VERIFIED REVIEW
---
I have suffered from nail fungus for many years now, and recently decided to get it treated. Not being a fan of oral medication (especially with risk of liver damage), laser seemed the obvious choice. The Total Body Care clinic at Pearl Pharmacy in Clapham is lovely with professional staff and though the results for toenail fungus is not immediate, Dr. Hasham is confident that we'll get there.

Arif N, North London
(no rating provided) – TREATWELL VERIFIED REVIEW
---
The laser treatment is much better than I'd hoped. The ugly infection has more or less disappeared from my large right toe and the other toe nails. Would recommend ahead of other treatments – worked for me.

Becka Hartwell, Surrey


TREATWELL VERIFIED REVIEW

---
How Does Nail Fungus Treatment Work?
A safe and effective treatment without side effects, Total Body Care uses its advanced laser treatment system to provide deep pulse profile heating of the nail bed, which works to stimulate the killing and eliminating of parasitic fungus.
This enables the natural growth and immune processes of the body to then be able to restore the nail to its original state, leaving it looking clear, clean and fungus free.
Using laser treatment means that the effects of the laser is spread evenly throughout the tissue, ensuring there are no side effects from the treatment and that results are effective.
The treatment is performed in three steps:
1. The nail is first filed down if necessary. Due to the fungal infection the nail will typically become deformed in shape and over grown and can also thicken. In filing down the nail first this allows the laser to fully penetrate the affected area
2. The laser is then applied and pulses distributed in a circular motion to cover the entire nail. There will be a slight heating sensation.
3. The laser is then used to pulse around the perimeter of the nail bed. Parasitic fungus often spreads beyond the nail, and so needs to be eliminated in the surrounding tissue to stop it reoccurring after Nail Fungus treatment has ended.
The Nail Fungus treatment is usually performed four times, typically at one week intervals. All of the nails should be treated during every treatment. Laser light can also effectively treat fungus which has infected skin tissue.

The Results
At Total Body Care, because we are able to pinpoint the infected area using the most advanced and up to date laser technology, we are able to eliminate nail fungus and put a stop to it returning too, but some post treatment care and cleaning measures may be needed to prevent cross infection.
Once the fungus has been eliminated, this then leaves the nail able to restore and regrow, with many patients' nails returning to the 'normal' state in just six months, resulting in clean, strong and healthy nails. The following images show results after several session of treatment: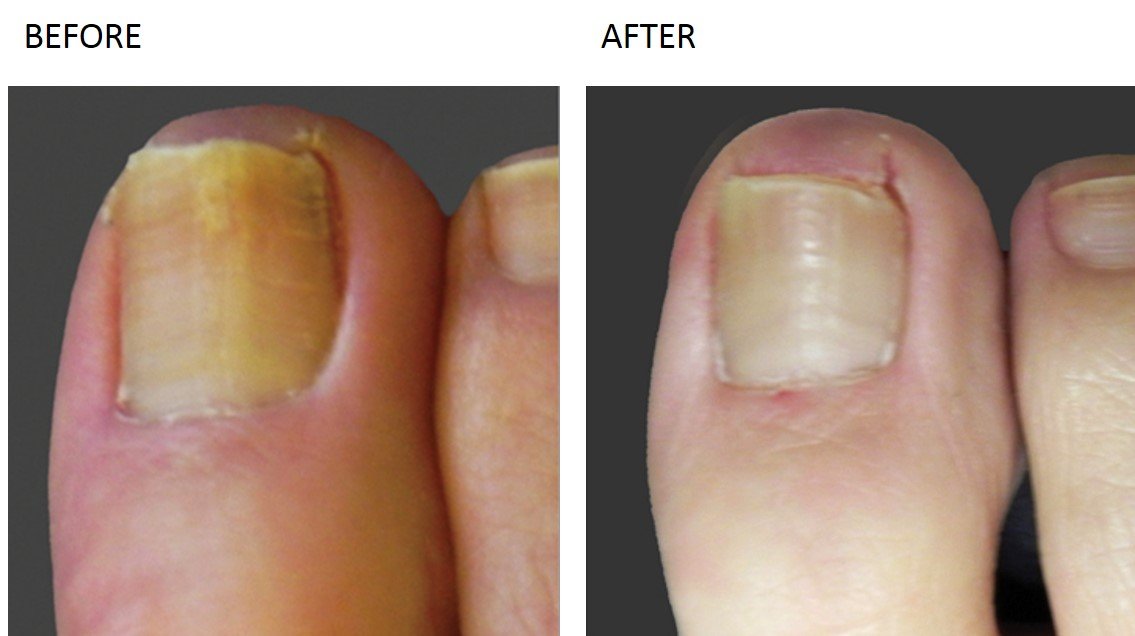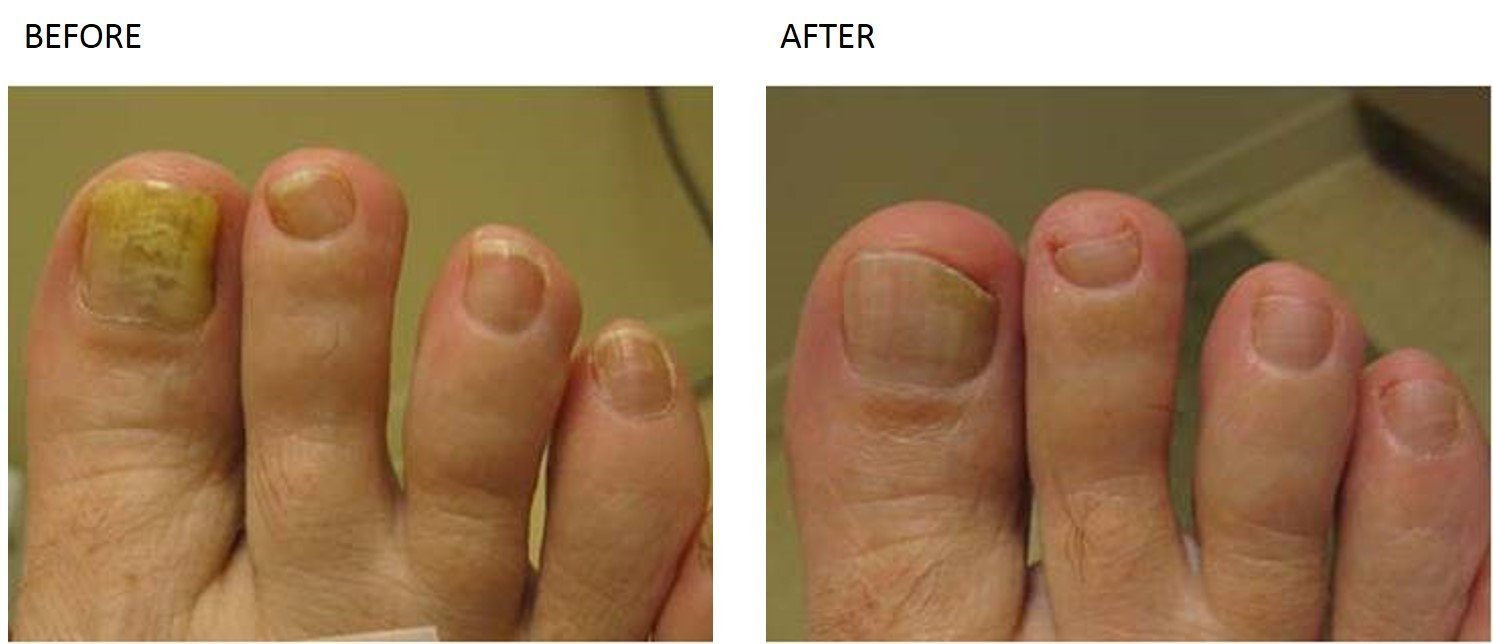 Our Recommendations
After The Treatment
Bring a fresh pair of socks with you to change into after the treatment, it's important to wear clean socks now the fungus has been removed. You will also need to apply an anti-fungal cream or spray twice daily to the treated area for 2-3 months post treatment, to help prevent the infection returning, it is also important to use an anti-fungal powder or spray in shoes twice a week for four weeks.
Wash all socks on a high heat to remove fungi, you should also wash towels and bedsheets too. You may also wish to invest in new nail scissors and nail polishes as fungi can be present in these too.
It is important to stick strictly to after care advice to avoid re-infection

Recommended Products following Nail Fungus Treatment
Our Practitioners will provide you with guidance on products and care regimes that can help minimise nail fungus re-infection following successful treatment.
If you were interested in nail fungus treatment, or you simply want to find out more, please do get in touch, as we encourage all enquires and hope to help you further. Call us or send us an email today, or book in for a consultation.

OR contact us on 0203 092 2766 | [email protected]
---
Scientific & Clinical Research:
ClearSteps – Laser Onychomycosis Treatment: Assessment of Efficacy 12 months After Treatment and Beyond.JasminaKozarev, M.D. Journal of the Laser and Health Academy, Vol. 2011, No.1.
Treatment of Onychomycosis with a Long-Pulsed Nd:YAG Laser.Wanitphakdeedecha D. Journal of the Laser and Health Academy, Vol. 2011, No.1.
Novel Laser Therapy in Treatment of Onychomycosis.Kozarev J, Vižintin Z. Journal of the Laser and Health Academy, Vol. 2010, No.1.