Laser Hair Removal & Waxing
At Total Body Care we provide comprehensive waxing and laser hair removal treatments using one of the most advanced laser systems in existence. Laser hair removal is medically proven to achieve permanent hair reduction and is a fast but gentle way of removing unwanted hair. Furthermore any future hair growth will usually be thinner and lighter, and thus much less pronounced than before.
Following a short consultation with you, our therapists will first assess how your skin reacts to the laser with a patch test and then advise you on the best form of treatment for your skin and hair type and the number of sessions that might be needed to achieve the results you desire.
We also provide waxing treatments for hair removal and have set out our prices for laser hair removal and waxing in the table below:
---
Laser Hair Removal
Treatment List & Prices
| | | |
| --- | --- | --- |
| | Laser – 1 session | Laser – 6 sessions |
| Consultation & Patch Test | FREE | FREE |
| Ear Lobes, Eyebrows, Nose | £47 | £172 |
| Lip/Chin/Sideburns/Cheekbones | £73 | £228 |
| Nipples/Toes/Hands | £73 | £248 |
| Full Face | £158 | £552 |
| Half Leg | £98 | £478 |
| Full Legs | £203 | £850 |
| Underarms/Navel | £73 | £353 |
| Basic Bikini | £78 | £376 |
| High Bikini | £82 | £401 |
| Brazilian | £98 | £348 |
| Hollywood (including perianal) | £122 | £462 |
| 1/2 Arm/Shoulders/Abs/Chest | £122 | £432 |
| Full Arm | £172 | £700 |
| Full Back | £172 | £700 |
| Neck | £73 | £252 |
| Buttocks | £122 | £422 |
| | | |
| Unlimited Laser Hair Removal Package | (12 sessions) | £1199 |
---
Further Information
Our laser hair removal treatments deliver outstanding and almost always permanent results in just a few sessions. This allows us to treat almost every type of skin, including dark and tanned skin.
Our laser systems successfully remove hair from most areas of the face and body, including:
The upper lip, chin, jaw line and beard
Nose, neck and ears
Underarms and arms
Legs and bikini line
Back and shoulders
Chest, nipples and abdomen

Laser Hair Removal Treatments are suitable for both men and women of all skin types, including dark skin.
The number of sessions depends on the size of the treatment area, but would typically be between three to five sessions, six to eight weeks apart.
So... How does Laser Hair Removal Work?
The Total Body Care laser system removes hair using concentrated laser energy to heat and destroy the hair follicles below the surface of the skin. After several treatment sessions, the hair follicle will not grow back, and the hair will be permanently removed. Using such a laser is the only way to accomplish this permanent solution.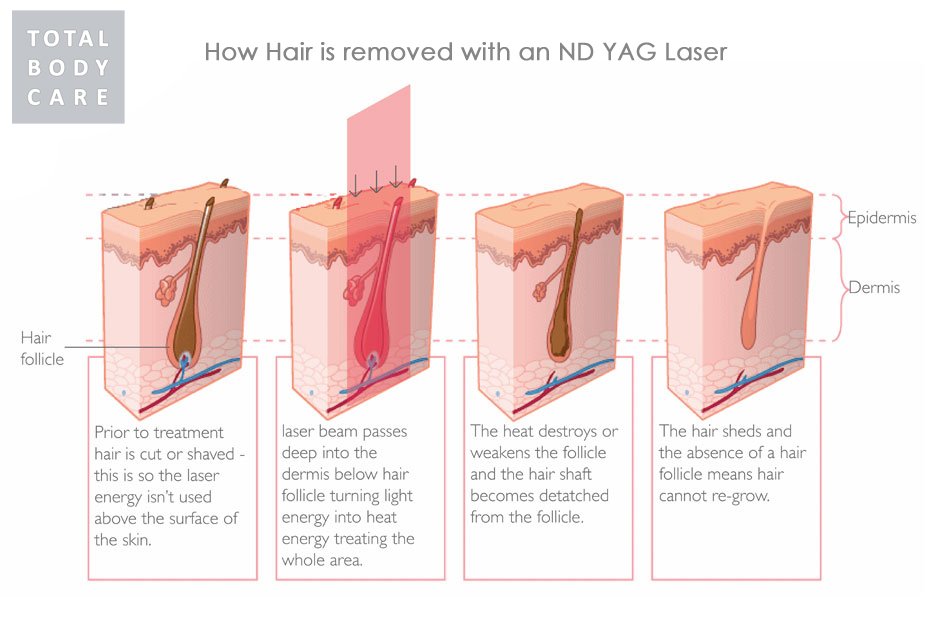 After laser hair removal, no shaving or waxing is required. The hair follicle is destroyed and will never grow back, even years later. The results are permanent, although your body may develop new follicles in its natural cycle. These are not the same follicles returning, as your body will not regrow follicles after they have been eliminated.
The Results...
With laser hair removal you should notice great results after the first few sessions. No more hair means you can wear the clothes you want to wear and start to feel more confident and happier about yourself and your appearance.
Examples of permanent hair reduction using the Total Body Care laser systems:
Our Recommendations
Prior to the consultation and treatment
We recommend that you shave the area to be treated 1 day before treatment. Completely avoid waxing or removing hair with the root (tweezing, waxing, etc) for at least 2 weeks before and throughout the course of treatment as hair needs to be in place to be targeted by the laser. Only shave or use a depilatory on your hair.
After the treatment
It is completely normal to have some redness in the skin that settles within 24 hours. Protecting your skin from the sun is essential to avoid any darkening caused by increased pigment in the skin called hyperpigmentation.
It is also important to keep your skin in good health and our Aesthetics Doctor can advise you on any aftercare and a suitable beauty and dietary regime.
Scientific & Clinical Research:
Scientific Evaluation of VSP Nd:YAG Lasers for Hair Removal. Grad L, Sult T, Sult R. Journal of the Laser and Health Academy, Vol. 2007. No. 2.-
Read Full Text.
Scanner Optimized Efficacy (SOE) Hair Removal with the VSP Nd:YAG Lasers. dr. Lukač M, Grad L, Nemeš K. Journal of the Laser and Health Academy, 2007 No. 3.-Read Full Text.
Epilation with Nd:YAG laser: a brief analysis of the technical application methods, results and pre- and post-treatment procedures. Cannarozzo G, Bonan P, Campolmi P. J Cosmetic & Laser Therapy. 2003; 5:189–191.- Read Abstract
Evaluation of a Long-Pulsed Nd:YAG Laser at Different Parameters: An Analysis of Both Fluence and Pulse Duration. Rogachefsky A, Becker K, Weiss G, Goldberg D. Dermatol. Surg. 28:10:October 2002.- Read Abstract
Additional Resources: visit the Laser and Health Academy* website for additional information about aesthetic laser treatments that can be performed with advanced laser systems.
---
Waxing
Treatment List & Prices
Female Lycon Waxing
| | |
| --- | --- |
| | Female Waxing |
| Eyebrows/Lip/Chin | £12 |
| Sideburns/Nipples/Toes/Hands | £17 |
| Full Face | £30 |
| Underarms/Navel | £19 |
| Basic Bikini | £19 |
| High Bikini | £25 |
| Brazilian/Hollywood (including perianal) | £39 |
| 1/2 Arm | £17 |
| Full Arm | £22 |
| Lower Back | £22 |
| Buttocks | £22 |
| Full Legs | £33 |
| 1/2 Leg (including knee) | £22 |
Male Lycon Waxing
| | |
| --- | --- |
| | Male Waxing |
| Eyebrows/Lip/Chin/Ears | £13 |
| Sideburns/Nose/Nipples/Toes/Hands | £15 |
| Hollywood | £42 |
| Back only | £24 |
| Full Back, Neck & Shoulders | £35 |
| Chest & Abdomen | £28 |